Compare and contrast to clearly define yourself
Mike Troiano, our CMO at Actifio, posted a great piece on our blog yesterday, CommVault vs Actifio. In it, he does a fantastic job of comparing and contrasting Actifio with one of our big competitors, to whom we are often compared. Most importantly, he draws the distinction between official positioning and product reality.
"On closer inspection Actifio and CommVault are in fact pretty different. They're saying all the right things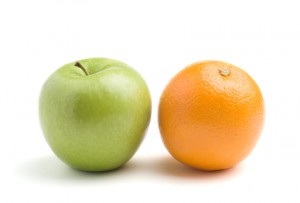 when it comes to defining the next generation of enterprise storage technology. But Actifio is delivering on them – today – with the only system purpose-built to do exactly that."
There are many good reasons to write such a post, but perhaps the best reason is to draw a clearer picture of the company's own value proposition by explaining how it clearly differs from that of the competition. Sometimes contrasting to something else is the best way to provide clarity on what makes you special.
"Rather than work up from the complex landscape of storage, Actifio works down from the application-based requirements of an SLA…Unlike CommVault, Actifio can protect data over the IP network or within a storage network, in either case delivering application- and/or crash-consistent RPOs, and heterogeneous storage migration."
In the end, defining what you are not (and identifying the comparative weaknesses of the competition), it makes it easier for people to understand what you are.